The African Folk Tune, Kye Kye Kule, is a game song from Ghana that I have used successfully for group activity. It is great for teaching quarter note rhythm and syncopation. The fun part is touching head shoulders, knees and toes while singing the syncops.
In Keys to Imagination's publication, "Are We There Yet: A Musical Journey Around the Globe", you will find activities related to Kye Kye Kule. Often I have my beginners learn the syncopation by rote, while the intermediate students learn to read the actual notation. Rote teaching is how this music would traditionally have been taught and learned.
I love using this particular African piece since the feeling of a samba rhythm runs through the length of the piece. I can explain to students how slaves returned to African on ships and brought with them the sounds of Brazilian music.   The melody itself is based on a major scale demonstrating western influence within Ghana. Most typical folk music relies upon five note scales or modes.
In "Are We There Yet" the following suggestions are made for class participation.  These are good for any size group.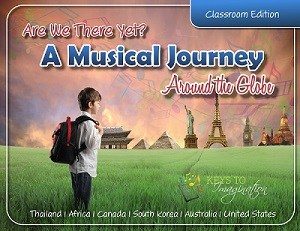 Kye Kye Kule 
(From "Are We There Yet")
Small intervals are good for singing (2nds, 3rds, 4ths, 5ths).
Call and Response -practice in groups.
Each group speaks the words in their measures while clapping on the beat 1 or 2.
(They are practicing tapping and counting with syncopation) In camp we touch shoulders while twisting and turning, then knees, then toes. Great activity to get them feeling the pulse.
One group can tap or use sticks for syncopated rhythm while other group sings (emphasize downbeats).
Repetitive rhythm is called ostinato.
Repeat using shakers, swing hands or improvise movements moving.
The syncopation is good preparation for piano repertoire such as March in D by J.S. Bach. The syncopation in Kye Kye Kule is fun to do and will make similar rhythm in March in D easier as a result.