Title:
The World at Your Fingertips, Book 2: Music History and Culture from Around the World with Intermediate Piano Arrangements
Published by:
Alfred Music
Contributors:
Deborah Brener and Tom Gerou
Pages:
40
Level:
Intermediate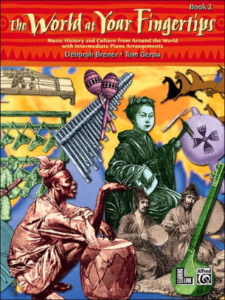 With today's ease of global communication, it is important for students to learn about our multicultural world. This book is designed to encourage students to appreciate the rich diversity of music from around the world. There are six country-units. Each unit contains interesting facts about the country, a brief history of the country's musical culture, an intermediate piano arrangement based on a traditional melody, and a fun activity page for review. Country units include:

China

India

Iran

Japan

Mexico

Puerto Rico.