Title:
Are We There Yet? A Musical Journey Around the Globe, Piano Studio Edition
Published by:
Keys to Imagination
Contributors:
Dr. Deborah Brener and Michelle Sisler (Arrangements and Accompaniments by Levi Taylor & Instrumentation by Michael Hemsworth)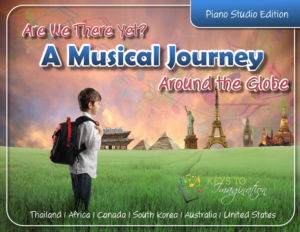 Are We There Yet? A Musical Journey Around the Globe® is a unique multimedia, interdisciplinary program to teach students about world music, instruments, culture, people, and geography through colorful slides, text, photos, videos, music, instrument crafts, games and puzzles. This curriculum is completely done for you! Simply read the slides to students, click on related videos, and complete interactive activities. Customize classes by choosing slides and activities to fit YOUR schedule. We recommend a minimum of 3-4 hours of class time per country. This is perfect for homeschool, group lessons, summer camps or a lab activity. Students Learn:

- 18 native folk songs (3 per country) – Sing in unison or add rhythm band parts and Boomwhackers for additional levels of learning.

- Create an impressive multimedia performance by adding the acompaniment slide show DVD, showcasing photos from the curriculum.

- Geography, people, places and characteristics of each country's music.

- Make your own instruments from household items such as wrapping paper tubes and shoe boxes.

Bring a world music expert, Dr. Deborah Brener, into your classroom or studio! This program is completely done for you and aligned with the national standards. It is easy for music or non-music teachers to use; no experience in world music needed.

Online Access code for:

- Curriculum slides and interactive activities for each country
- Accompaniment MP3 Tracks
- Accompaniment Video (Photos from curriculum synced to the accompaniments for a multimedia show!)
- Color Coded Boomwhacker Music and Rhythm Instrument Music
- Reproducible Passport to Fun workbook

Printed piano (student) music & accompaniments sold separately.